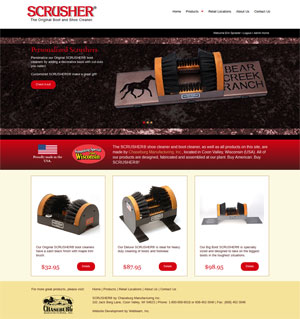 Webteam recently worked with Chaseburg Manufacturing to redesign a website for Scrusher.com. Scrusher is a company located in Wisconsin that makes shoe cleaners and boot cleaners and their distribution is worldwide. Their products are widely used on golf courses and for private use. The Scrusher is available in a base model and offers many customized and personalization options for business and personal use.
We are proud to partner with this versatile Wisconsin company to update their look and and provide a more user friendly mobile friendly website. The new website also includes administrative tools to manage page content and product management to easily update their online product information.
Congratulations Scrusher and welcome to Webteam! Check out their new site!