We recently teamed up with the Wisconsin Apartment Association (WAA) to revamp their website. Their new mobile-friendly website aims to provide a plethora of information to landlords in Wisconsin.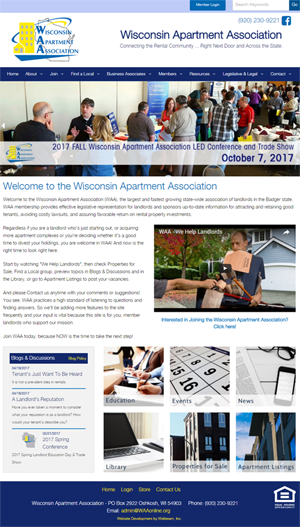 The new site includes members-only access to up-to-date legislative issues, as well as blog posts where they can discuss items of concern with other members. Member landlords can access and download many forms and documents necessary for managing their rental housing business successfully, ethically, and responsibly. Site visitors interested in the Wisconsin Apartment Association have the ability to join the association as an individual, as a group affiliate, or as a business associate member for access to additional features of the website and organization.
Site administrators have the ability to update the site through various management tools; a full site content management system, membership data, blog posts, resource and library items, conference registration, and more!
Explore the new site, here: Wisconsin Apartment Association