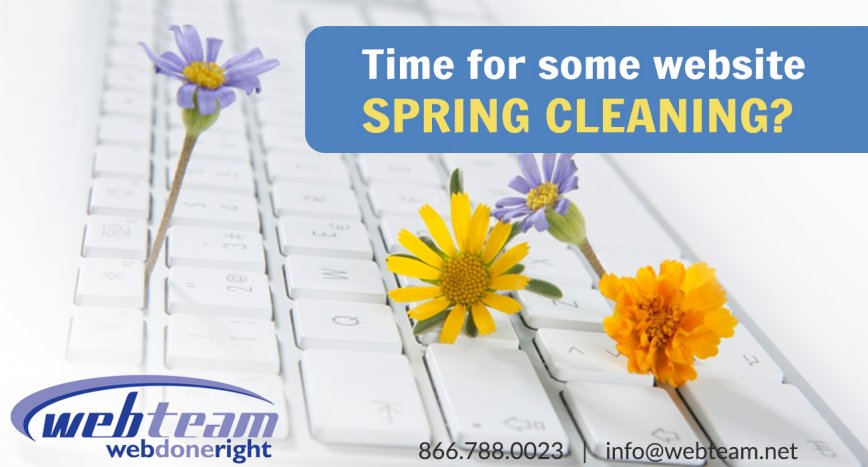 Spring brings thoughts of greener grass, flowers, cleaning house, and cleaning up your business website!
Our current social distancing situation is a great time to step back and look at your online presence, take some time to clean up some content, and reflect on your online goals for the next year. Now more than ever it is important that your website content is up to date and user friendly.
Here is a list of things you can review to 'Spring Clean' your website to keep it fresh and current.
Basic Spring Cleaning Website Maintenance:

Update copyright if needed.

Clean up outdated content – news, blogs, photo galleries.

Check for broken links.

Verify contact information.

Test all forms – contact, email join lists, etc., make sure they are submitting correctly and to the correct contact in your organization.

Check for consistency in content and images.

Update bios.

Update policies – If your website collects information you need to have a privacy policy in place – certain laws actually require it or your business could incur a fine. Privacy policies should be reviewed annually.

Test computer, mobile & tablet views if your site is responsive (mobile-friendly). If it isn't, look at some of our 'Deeper Spring Cleaning' tips below.

Review website for basic Search Engine Optimization to help potential clients find you.
For a Deeper Spring Cleaning Consider Some of the Following Items:

Prioritize Information: Is the important information on your website easy for your clients to find? Information, services and products change over time and sometimes the content on your site needs to be reorganized. Take a fresh look and make sure your important information is easy to find or consider restructuring your content and/or menu. Keep it simple!

Clean Up Content: It's one thing to do a basic run through and do a quick cleanup. It is another to step back and ask yourself is if the website still reflects your company's mission. Is your last news/blog post over a year old? A website that is full of incorrect and outdated material is unprofessional and isn't presenting your business in the best way. Consider revamping content and updating blog/news posts regularly to give your website constant fresh content to catch the interest of your customers and search engines. A website that looks great and is easy to navigate increases time spent by users.

SEO: Is your website optimized so potential customers can find you? If not, or you don't know, consider contacting Webteam for a Search Engine Optimization (SEO) evaluation today.

Mobile Friendly: Is your website mobile friendly? All websites have different statistics based on their audience, but generally speaking, statistics say that 52% of website traffic is coming from mobile devices. If your website isn't mobile friendly you could be losing potential customers because information is difficult to read or view at all. Consider revamping your website to attract more business.

Security: Websites with online stores have long been required to include https (SSL) but recently, it has been encouraged to install an SSL on all websites. There are a few ways to accomplish https on your website, with the reasoning that it will be viewed as more trustworthy, will improve search engine ranking, and it won't show the 'not secure' warning in browsers. There is a yearly fee for adding an SSL to your website – please contact Webteam to find out the details.

Statistics/Analytics: If you don't currently have Google Analytics / Bing Webmaster tools added to your website you could be missing out on important information to help grow your business. Both Google & Bing have tools to help improve SEO and you can analyze webstats for just about anything.

Online Advertising: If you are thinking about trying online advertising, think about adding some Google Ads to your planning. Google Ads can be created with a low monthly budget and can be turned on & off whenever you like. Do you have a hot product you want to promote? Try a Google ad for one month. A service you want to promote in a certain region? Try a regional ad. Budgets can be low and very flexible. Contact us to talk about your goals for online advertising and Webteam can help with your planning.

User Maintenance: If you have email addresses on your domain or for your business, are there any email accounts that need to be disabled or deleted? How about users in your website user system? It is very common to forget to delete former employees from user systems on your website, leaving access open to valuable information. Clean up/delete emails and users to keep your information secure.

Social Networking: Most businesses are promoting themselves on various social platforms. If you are, great! Make sure you are posting information on your website, then linking to your website page on your social profiles. That link helps get people to your website and the link is good for SEO. If you are unsure of how social networking can help your business give us a call. We can help inform you, help with profile setup and help you create a plan for better promoting your business using these free online platforms.

Plan for Online Success!: Make a list of some things to change and experiment with. Haven't tried Google Ads? Set up an ad program and try it for one month with a budget of $30-$60 ($1.00-$2.00/day). Make sure you have Google Analytics and some goals set up to monitor the success of the ads. Google Ads are cheaper than yellow page ads and can be very effective. Try a Facebook ad and target specific audiences by age, geographical region, and other specific targeting. Haven't paid attention to your website SEO? Get an evaluation and do some monthly maintenance to help boost your website rating. Have questions because this is all confusing? Contact Webteam to help you with all your online needs today!
We are offering a 10% discount on all website hourly updates that are quoted before May 15, 2020. We can give you an estimate on site updates, SEO, or anything else we do before starting on a project. Please send an email to info@webteam.net or send us your info on our contact page. We can also do a quick review and offer some suggestions to help your website work better for you.
Thank you and be well,
Webteam
info@webteam.net
p: 608.788.8100
tf: 866.788.0023