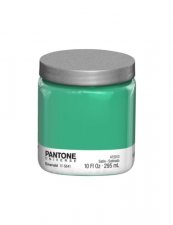 Today I ran across something on the blogosphere that I found pretty cool. Pantone® has partnered with Valspar Paint® to release a brand new line of paint colors: PANTONE UNIVERSE™ Paint Collection by Valspar that will be available exclusively at Lowe's stores nationwide.
If you aren't familiar with Pantone®, they are known as the authority on color, a provider of color systems and a leader in the technology for accurate communication of color. Their Pantone Matching System (PMS), is used in a huge assortment of industries, primarily printing, though sometimes it is also used in the manufacturing of colored fabric, plastics, and now paint. They are also known for their "Color of the Year" which happens to be Emerald Green this year - so if you see a lot of green popping up in home decor and fashion, you know why!
I am really looking forward to checking out this new line of fun paint colors and possibly redecorating a room in my house!