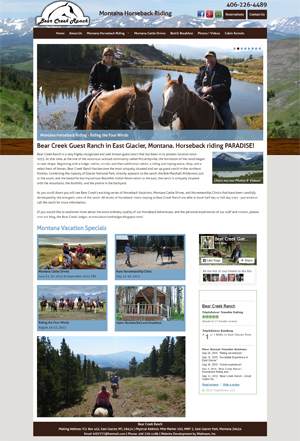 Webteam recently revamped the Bear Creek Guest Ranch website into a responsive design, which is web designer speak for 'mobile friendly'. Bear Creek is a bed and breakfast horse ranch next to Glacier National Park, near East Glacier Park, Montana. They offer horse back riding, cattle drive adventures, and bed and breakfast accommodations.
Their new site also includes a Content Management System (CMS) so they are able to easily update their own content as well as tools to update the home page slideshow and more.
A great place to visit and wonderful people to host your western vacation - we're glad they are clients of ours :) Congratulations on your moble friendly website!